Dolores Mary Eileen O'Riordan belts out a song at Polaris Amphitheater Tuesday night, August 31, 1999 as the Cranberries played to a large crowd.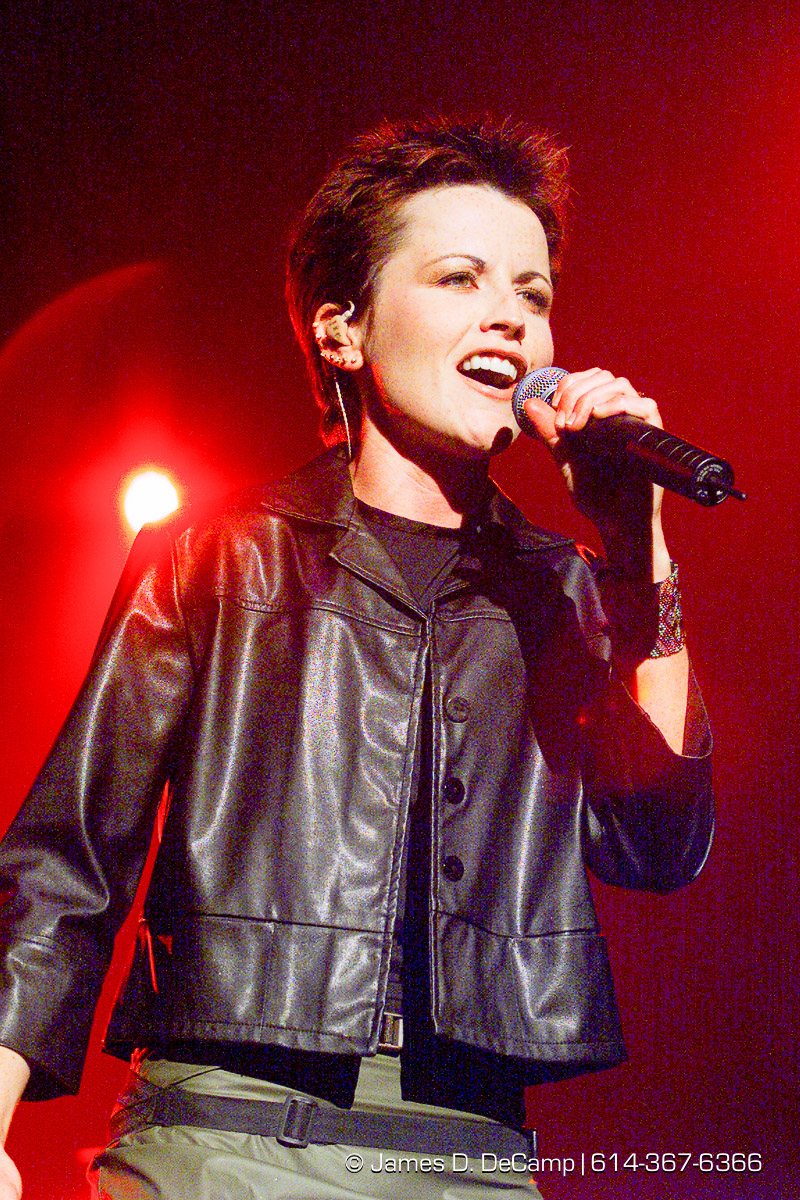 The Cranberries are an Irish rock band formed in Limerick in 1989 by lead singer Dolores O'Riordan, guitarist Noel Hogan, bassist Mike Hogan, and drummer Fergal Lawler. Although widely associated with alternative rock, the band's sound also incorporates indie pop, post-punk, Irish folk, and pop rock elements.
The Cranberries rose to international fame in the 1990s with their debut album, Everybody Else Is Doing It, So Why Can't We?, which became a commercial success. The Cranberries are one of the most successful rock acts of the '90s and have sold over 40 million records worldwide. The band has achieved four top 20 albums on the Billboard 200 chart (Everybody Else Is Doing It, So Why Can't We?; No Need to Argue, To the Faithful Departed and Bury the Hatchet)and eight top 20 singles on the Modern Rock Tracks chart ("Linger", "Dreams", "Zombie", "Ode to My Family", "Ridiculous Thoughts", "Salvation", "Free to Decide", and "Promises").
In early 2009, after a six-year hiatus, the Cranberries reunited and began a North American tour, followed by shows in Latin America and Europe. The band recorded their sixth album Roses in May 2011, and released it in February 2012. Something Else, an album covering earlier songs together with the Irish Chamber Orchestra, was released in April 2017.
Dolores Mary Eileen O'Riordan was an Irish musician and singer-songwriter. She led the rock band The Cranberries for 13 years before the band took a break starting in 2003, reuniting in 2009.
Her first solo album, Are You Listening?, was released in May 2007 and was followed up by No Baggage in 2009. O'Riordan was known for her lilting mezzo-soprano voice, for yodeling and for her strong Limerick accent. She appeared as a judge on RTÉ's The Voice of Ireland during the 2013–14 season. In April 2014, O'Riordan joined Jetlag(later called D.A.R.K.) and began recording new material. In May 2017, Dolores declared that she had been diagnosed with bipolar disorder.
The Germain Amphitheater (originally the Polaris Amphitheater) was a 20,000-seat outdoor entertainment venue located in Columbus, Ohio, near the suburb of Westerville. The venue opened as part of a large development venture off of Interstate Highway I-71. There were 6,700 seats in an open-air pavilion—much of it under cover—and room for another 13,300 people on general admission lawn seating. The concert season began mid-May, continuing through early October and featured 20-30 concerts per year. At the time it opened, it was the largest and most suitable venue for concerts in central Ohio.