Komen Athens Race for the Cure photographed Sunday, October 15, 2017 on the campus of Ohio University in Athens, Ohio.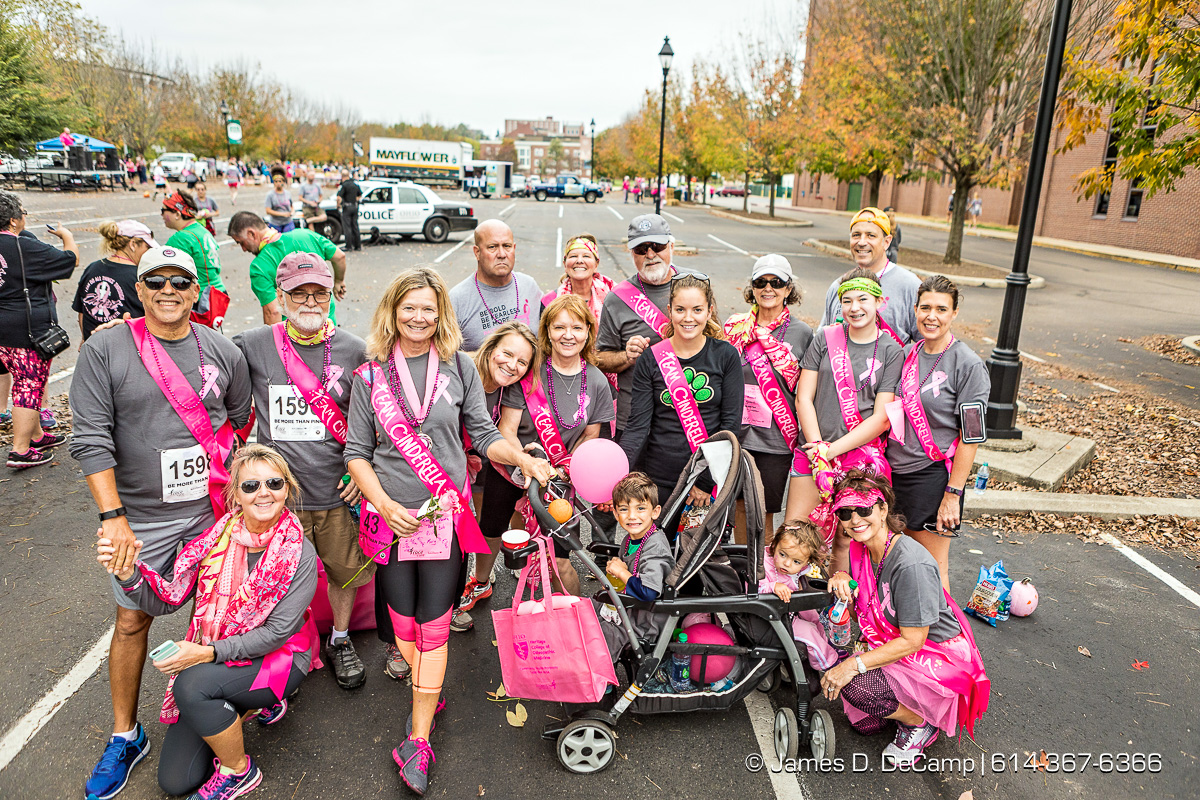 The Susan G. Komen Race for the Cure® Series is the world's largest, most successful fundraising and education event for breast cancer. The race series includes more than 140 events on four continents, with over one million participants coming together every year to take part in the fight against breast cancer.
This important annual event raises significant funds for the breast cancer movement, thanks to supporters and survivors around the world who step up and take action by fundraising for the cause.
A Global Impact
Race for the Cure® truly makes an impact, with 100 percent of the net proceeds allocated to our mission:
75 percent of the net income stays in our community to help fund local programs offering breast health education and breast cancer screening and treatment.
The remaining 25 percent goes toward Susan G. Komen® Research and Training Grants program.
In addition to raising funds for the breast cancer movement, Race for the Cure® also increases awareness, celebrates breast cancer survivorship and honors those who have lost their battle with the disease.
Racing for the Cure is More Than Pink™
Every year, in cities around the globe, our allies Race for the Cure® and prove they are More Than Pink™.
These passionate supporters and survivors are not content to simply say they support the breast cancer cause, or wear a pink ribbon. They turn their support into action. They recognize the need to raise funds for the fight against breast cancer, and they get to work.

I Am Komen® is the mission engagement program of the Susan G. Komen Race for the Cure® Series that motivates people to take action steps that may reduce their risk of breast cancer. It speaks to the importance of early detection and healthy living while encouraging everyone to make a personal commitment to their breast health. I Am Komen® is a "Declaration" to join the Komen community as an ambassador in the fight against breast cancer.
What you can do to help
For more information about the I Am Komen® program, breast health information, and ways that you can personally get involved, please visit iamkomen.org. If you're interested in learning more about volunteer opportunities at our Race, including becoming an I Am Komen® volunteer, please contact us or visit our Volunteer page. Our I Am Komen® program is ideal for volunteers of all ages seeking to get involved in the Komen Race for the Cure®.
Ohio University is a large, primarily residential, public research university in Athens, Ohio, United States. The first university chartered by an Act of Congress and the oldest in Ohio, it was chartered in 1787 and subsequently reapproved for the territory in 1802 and state in 1804, opening for students in 1809. As of 2016, the university's total enrollment, including all campuses, was more than 36,800.
Ohio University maintains a selective admission rate with further admission requirements for its schools. The Heritage College of Medicine maintains its separate select admissions criteria. Ohio University offers more than 250 areas of undergraduate study. On the graduate level, the university grants master's degrees in many of its major academic divisions, and doctoral degrees in selected departments. Ohio University is fully accredited by the North Central Association of Colleges and Schools. The Carnegie Foundation for the Advancement of Teaching classifies Ohio as a Research University (high research activity) under the Basic Classification category.
Ohio's athletic teams are called the Bobcats and compete in the National Collegiate Athletic Association (NCAA) at the Division I level as charter members of the Mid-American Conference. Ohio football has participated in ten bowl games through the 2016 season, while the men's basketball team has made 13 appearances in the NCAA Men's Division I Basketball Championship.
Susan G. Komen, formerly known as Susan G. Komen for the Cure and originally as The Susan G. Komen Breast Cancer Foundation, often referred to as simply Komen, is the largest and best-funded breast cancer organization in the United States.
Since its inception in 1982, Komen has spent (through 2010) nearly $1.5 billion for breast cancer education, research, advocacy, health services and social support programs in the U.S., and through partnerships in more than 50 countries. Today, Komen has more than 100,000 volunteers working in a network of 124 affiliates worldwide.<
According to the Harris Interactive 2010 EquiTrend annual brand equity poll, Komen was once one of the most trusted non-profit organizations in America. In 2012, Komen's controversial continued funding for mammogram referrals provided by Planned Parenthood caused a significant decline in donations, event participation and public trust, after an attempt to withdraw Planned Parenthood's funding resulted in political pressure. The organization was further criticized for its use of donor funds, the CEO's 64% pay raise after the significant drop in donations, its administration costs, its choice of sponsor affiliations, its role in commercial cause marketing and its use of misleading statistics in advertising. In March 2013, Komen dropped from Charity Navigator's highest rating of four stars down to three stars and then to two stars in 2014. As of June 2016, Komen is back to three stars, with a score of 81 out of 100.